LED screen. Control via buttons or APP
Control unit for quick heater setting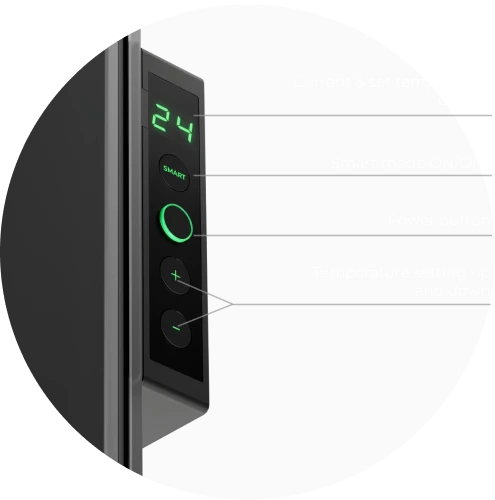 Infrared heating compared to conventional convection
Heaters based on infrared heating technology heat objects and air, without drying it or blowing air around. Here, the heater operates like the sun - heats you and the objects
Heating by convection

Total distance = 5.8 m
Time heating = 58 min
Infrared AENO heating

Total distance = 1.5 m
Time heating = 15 min
On the wall
On the floor
Elegance in every detail
Made in Poland
Premium materials

Thin and strong 11 mm glass body

With "backside"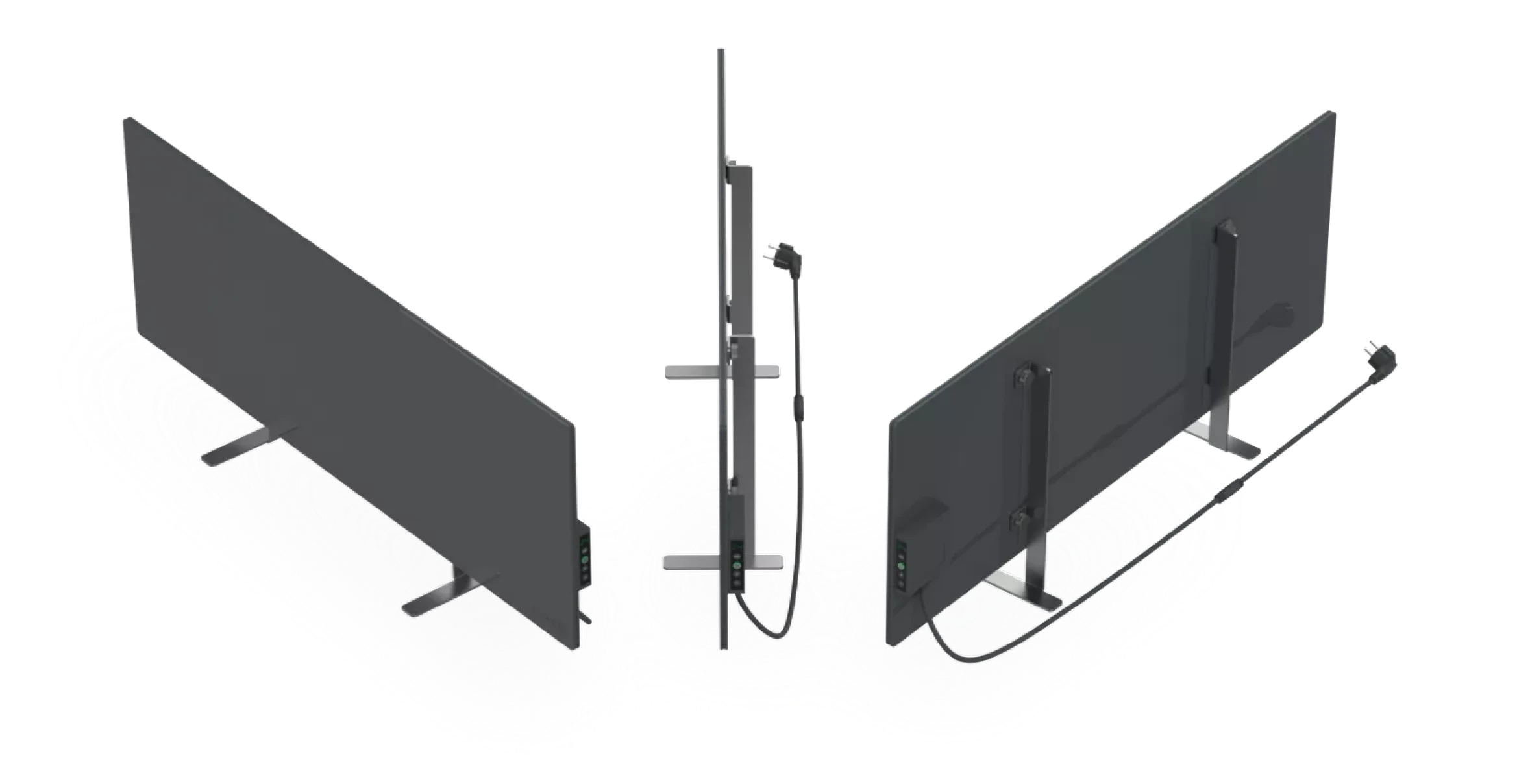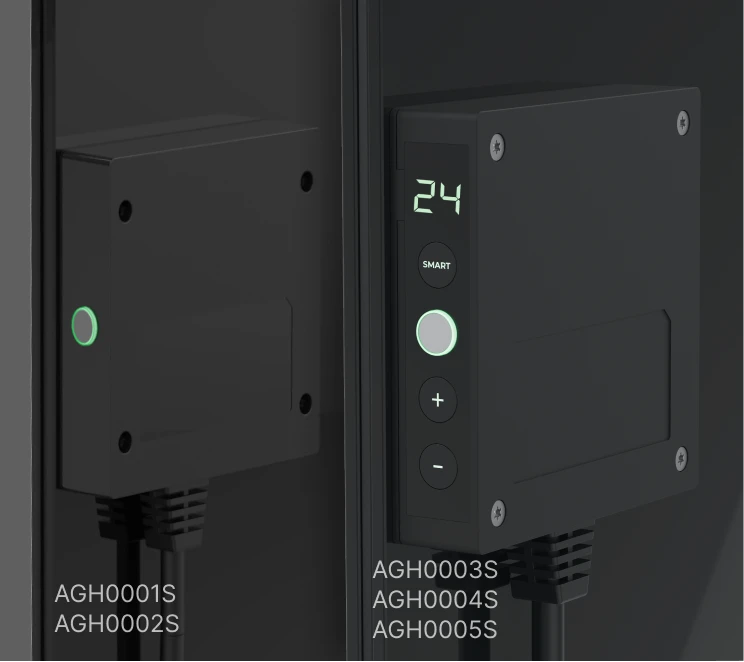 Premium or Premium LED Display with control buttons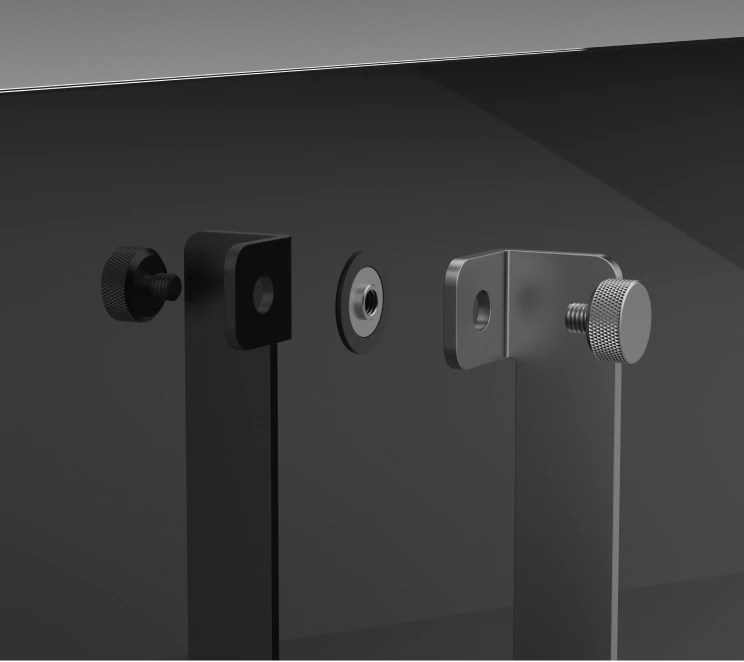 Anodized sandblasted real aluminum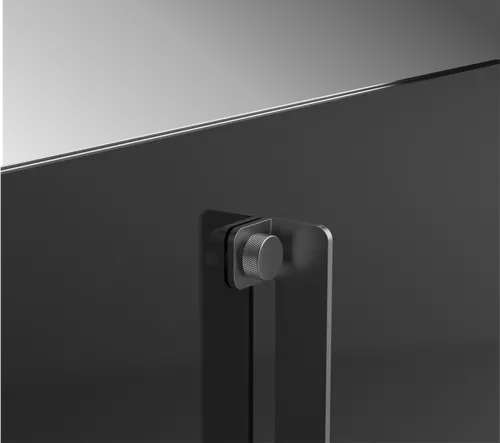 Ultra clear enameled tempered glass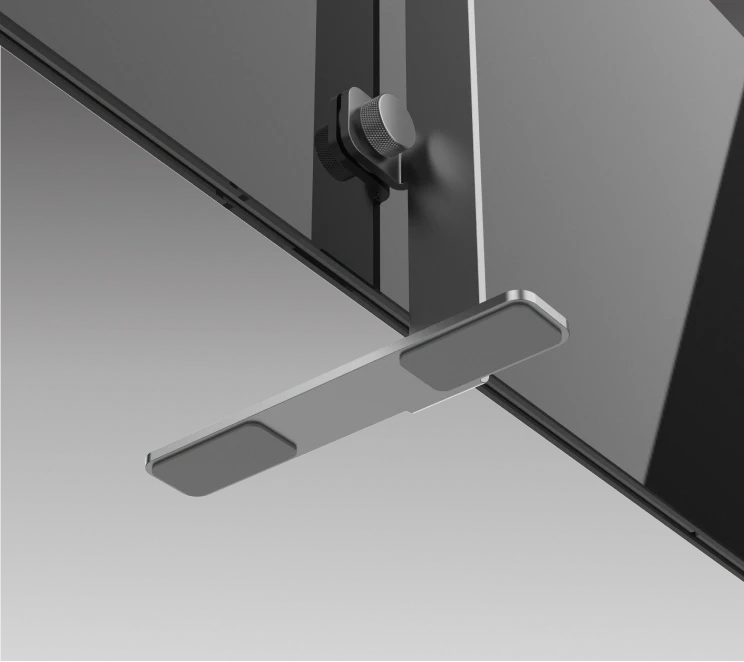 Rubber pads
Benefits of AENO Smart Eco Heater
Low power consumption – 160 Watt-hours to 700+ Watt-hours

Eco-friendly materials – safe, natural, durable

Elegant design – thin shape, color choice

High energy efficiency – even heat distribution

Rollover sensor for your peace of mind

Mobile application – time setting, room heating temperature selection
Adjustable glass heating temperature = Adjustable energy consumption
If you set the heater panel temperature to 60 °C in the mobile app, you will see the decrease in the 'Watts-hour (Wh)' parameter to around 160 Wh in the Statistics tab, if the heater panel temperature is 120 °C, the Watts-hour will be around 700 Wh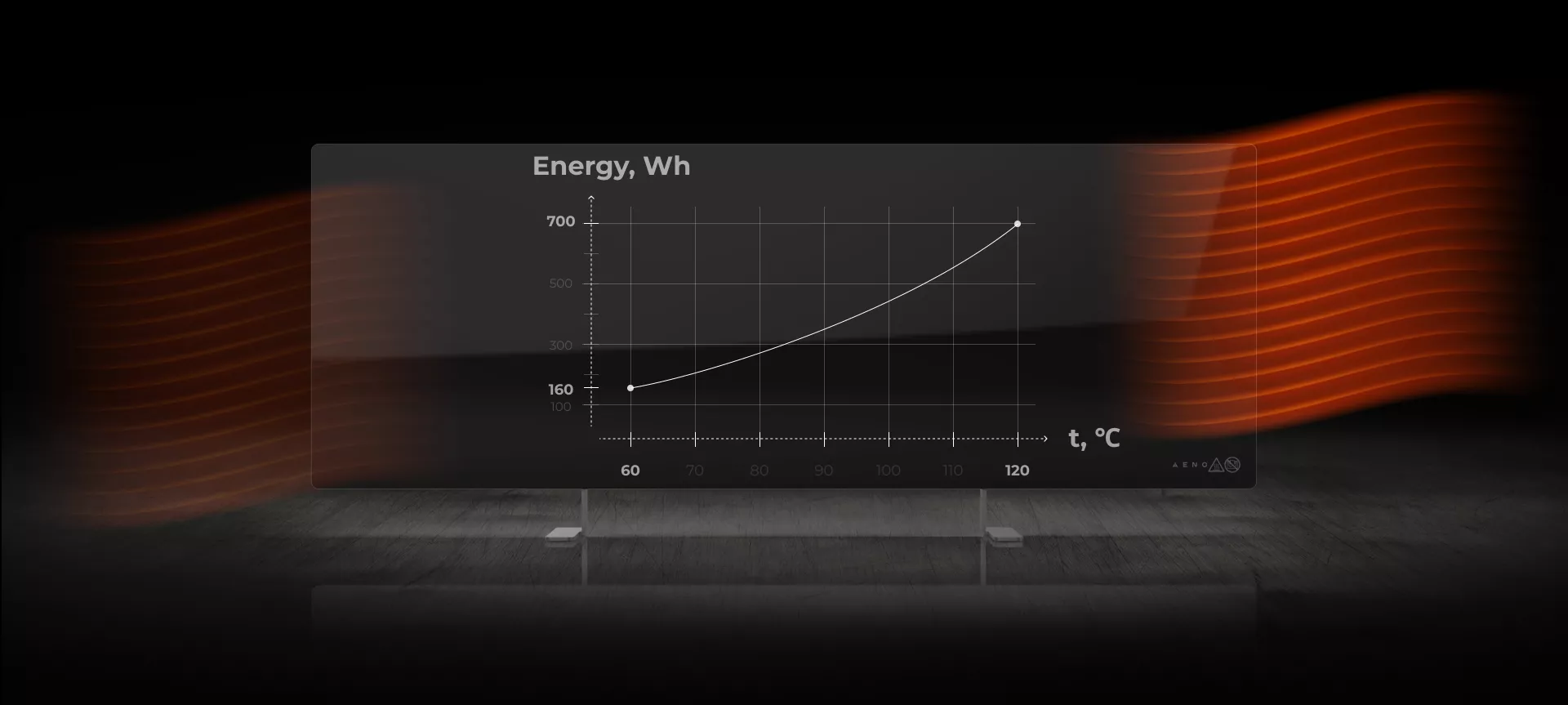 Hypoallergenic heating for your well-being
Silent

Odorless

No air blowing

Does not dry the air

Does not burn oxygen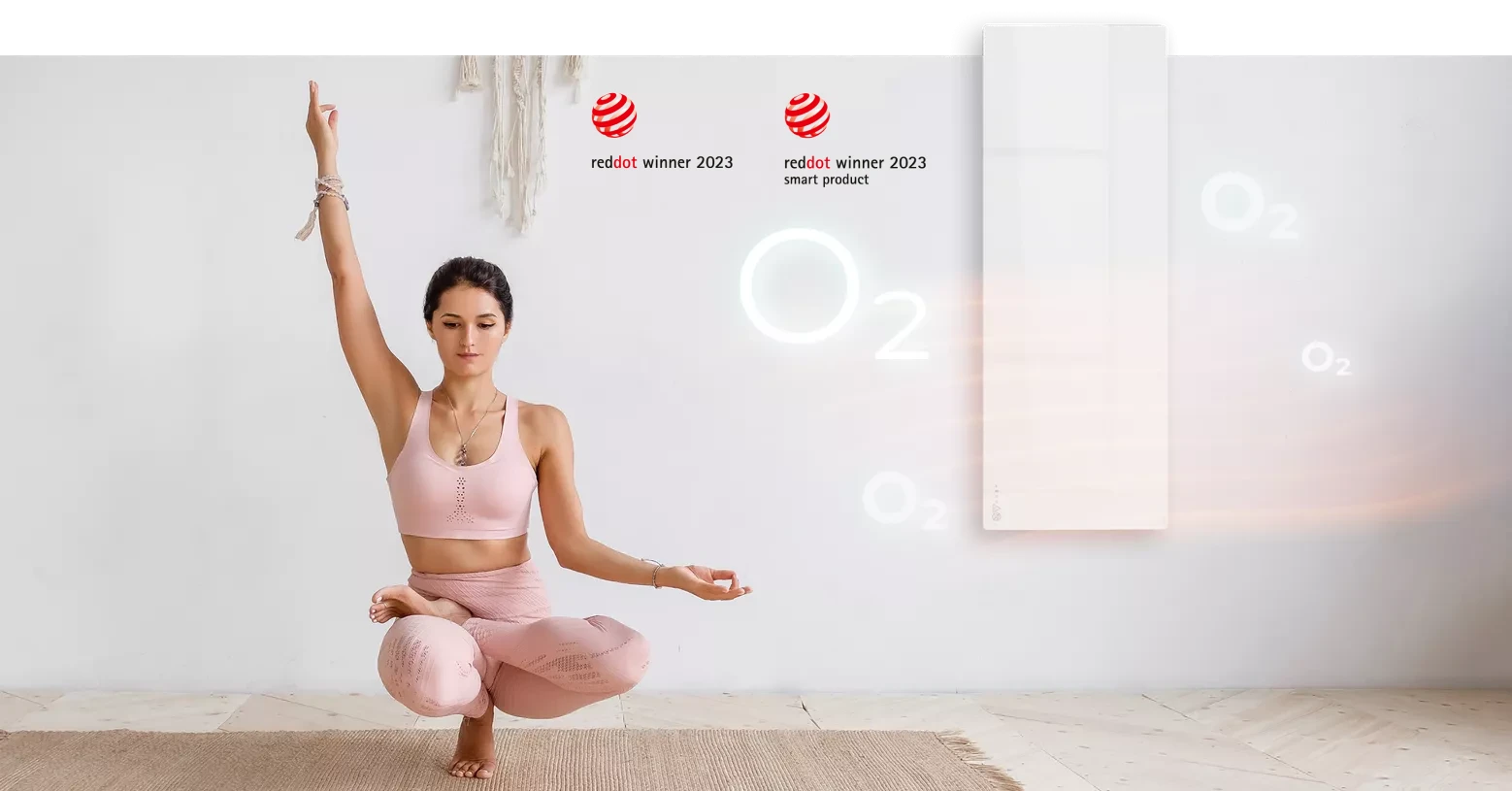 Efficiency
100% uniform distribution of heat in the room, and as a result, energy saving
Environmental Friendliness
Does not dry out the air, does not burn oxygen and does not emit harmful substances that affect the well-being and health of people in the room
Safe Technology
The heating element provides a smooth start of heating and does not load the network with sudden jumps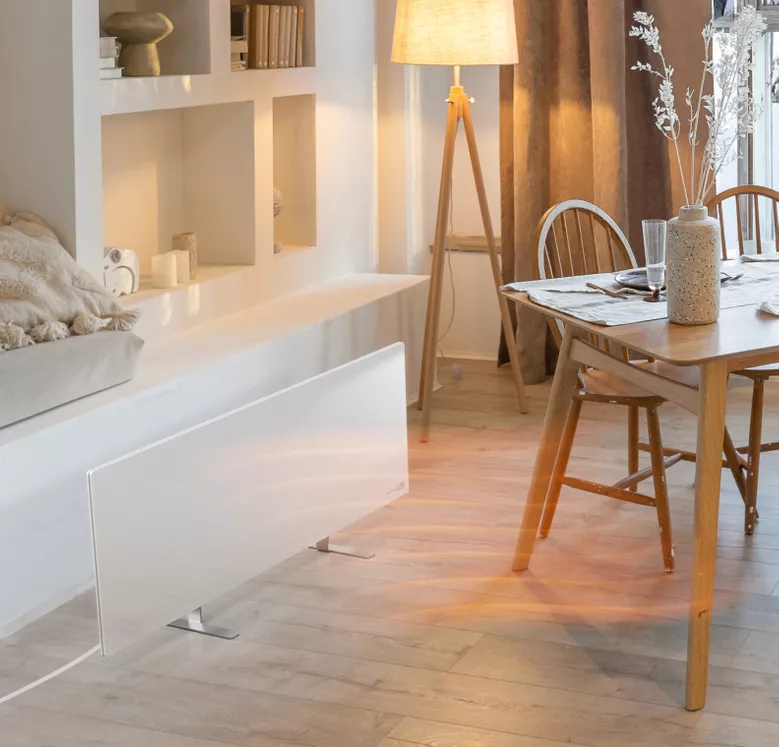 Set and control room temperature remotely
From work, from a country house, in the car through the AENO App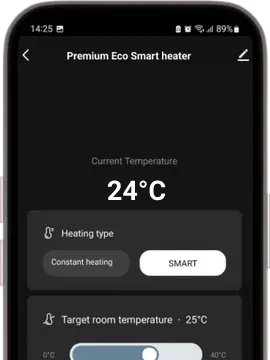 Solving the cold problem in a smart and sustainable way
Apartment:
Heating rooms
Improving the microclimate during the cold season
Cottage:
Setting heating on a timer in rooms and on verandas during cold hours
Remote climate control before arriving at the cottage
Control over expenses
Heating according to specified scenarios
Nordic countries:
Desire of target audience do not depend on central heating
Unwillingness to pay for "extra" heat through the window in warm weather
Central heating activation according to the calendar, which does not coincide with the weather
Winters are warm or cold - looking for flexible heat supply
HoReCa:
Aesthetics and comfort of visitors to cafes, bars, restaurants
Hotels, beauty salons:
Aesthetics and comfortable conditions for employees and clients
Small offices:
Rented and other premises
B2C Values:
Health and wellness
Home and family
Time and money
Security and control
Comfort and convenience
Countries and locations where:
Expensive central heating
Low efficiency or comfort from city heating
The heating season begins after the onset of cold weather
Houses without connection to Central Heating
B2B Values:
Temporary office rent
Energy saving
Comfort and aesthetics
Healthy employees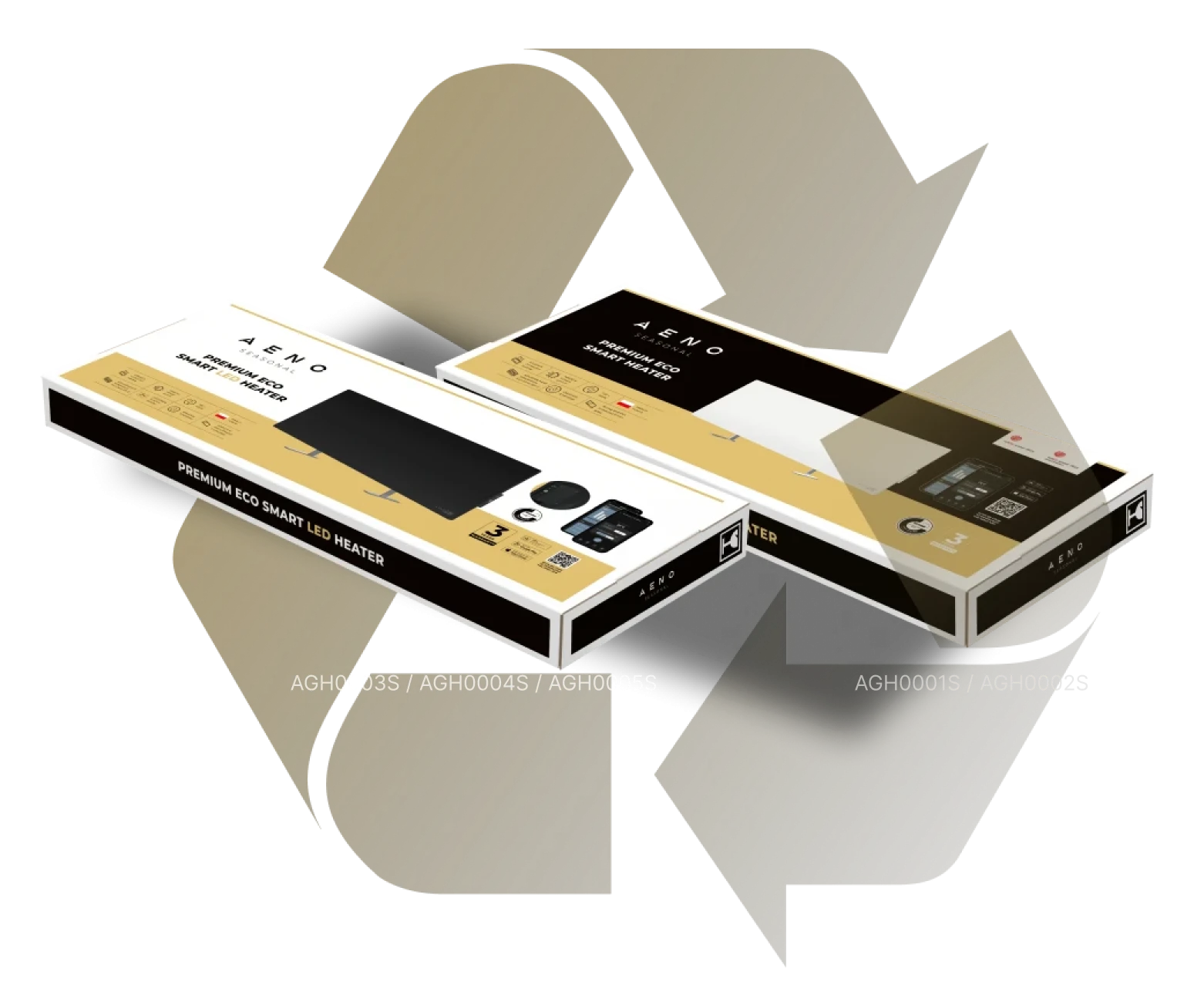 NEW eco-craft recycled packaging & biodegradable plastic. Drop-test tested
What`s in the box?
Premium Eco Smart Heater

Legs (2 pcs), mounting brackets (2 pcs)

Mounting kit

Quick Start Guide, Warranty Card, Hole drilling template
Specifications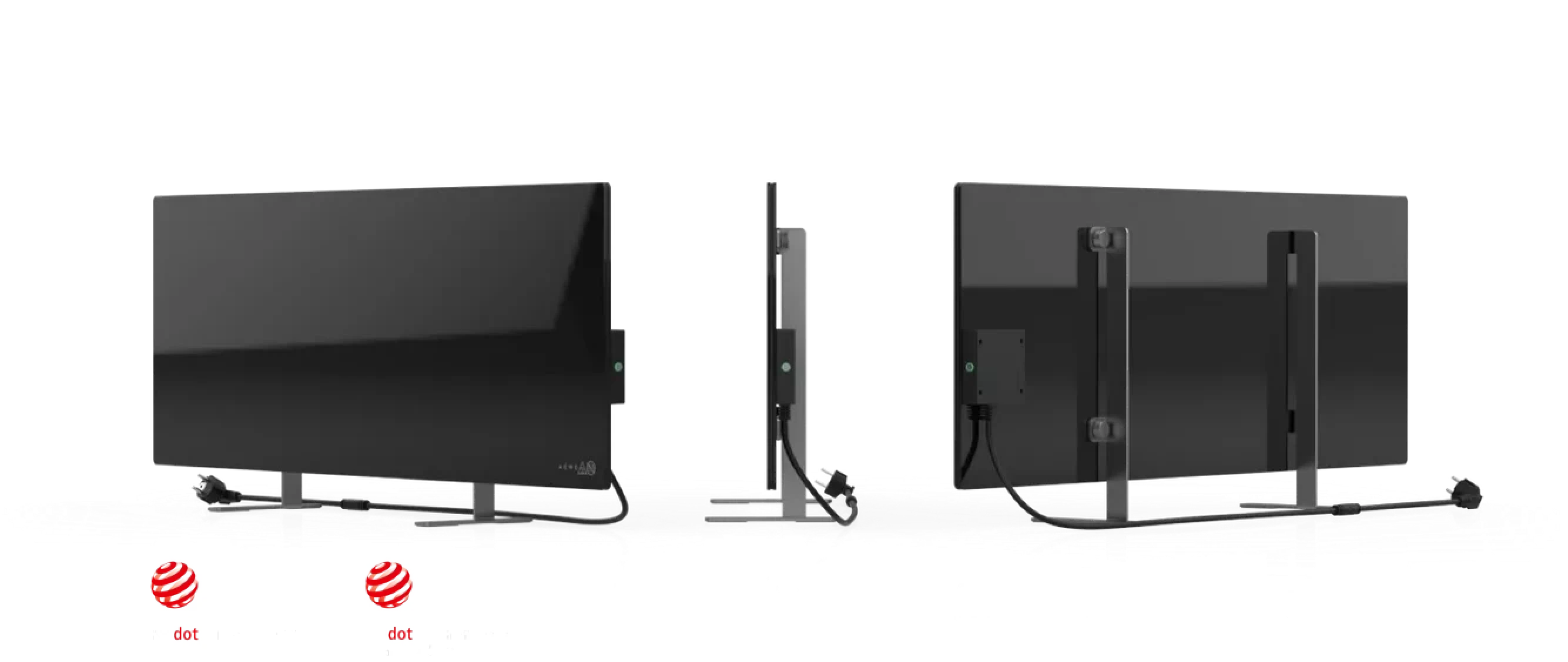 365 mm
1000 mm
Ultra thin – only 11 mm
Heating method: Infrared + convection
Material: Tempered glass
Max power consumption: 700W+
Voltage: 220-240 V, 50 Hz
Adjustable panel heating temperature, 60 °C – 120 °C
Fall/Tilt sensor - auto power-off if fallen
On/Off control or LED Display with control buttons
AENO App - Connecting via Wi-Fi 2,4 GHz
Weight: 8.9 kg
CE, RED, RoHS, REACH, WEEE, TUV (CE)
Made in Poland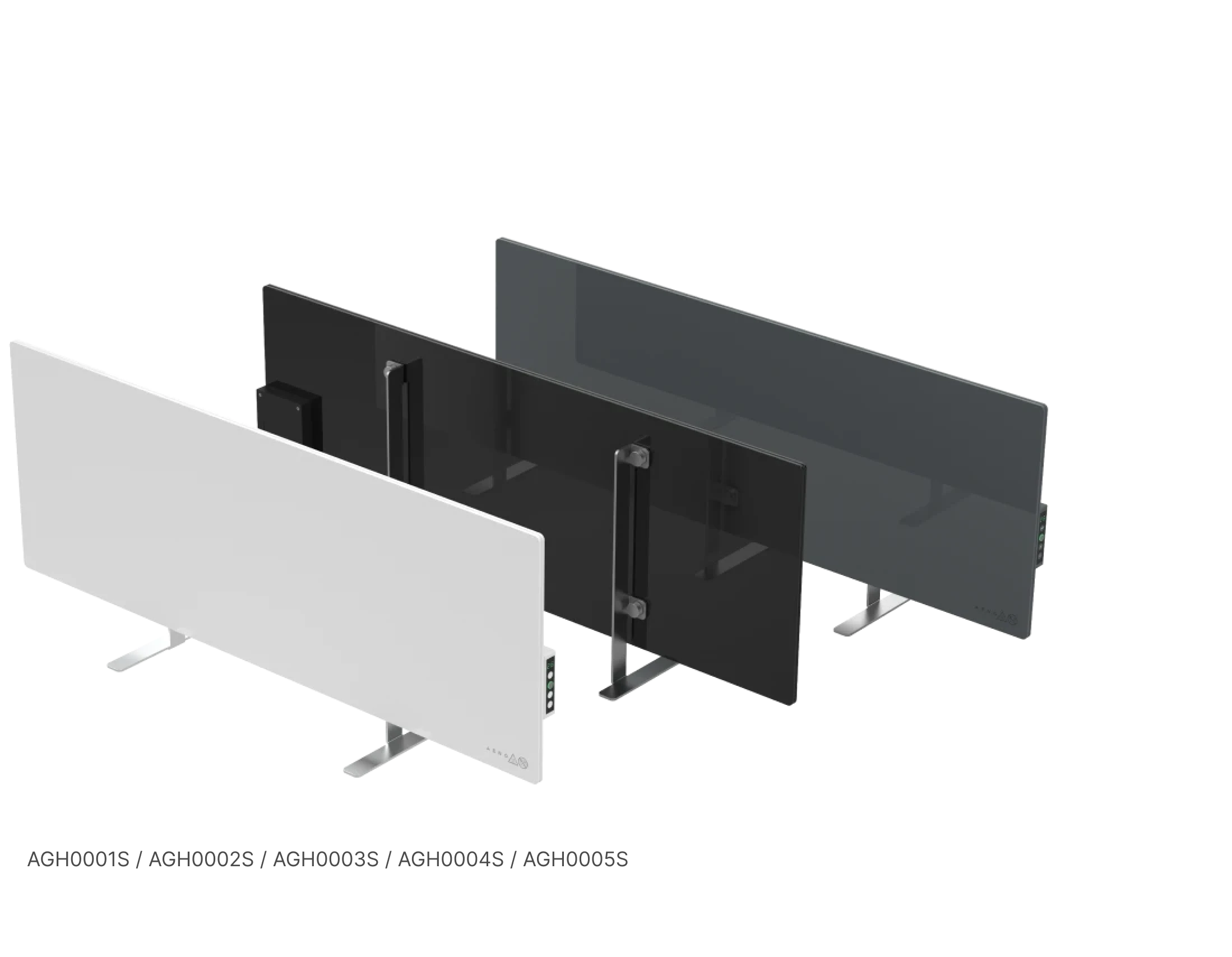 WARNING – DON`T TOUCH THE GLASS WHEN THE HEATER IS TURNED ON!
User Guide
Read the user manual online or download a copy

PDF, 3.1 MB